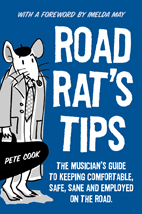 From 'Bebop Spoken Here' 25th September 2012


Book Review: Road Rat's Tips – The musician's guide to keeping comfortable, safe, sane and employed on the road – by Pete Cook.


(Review by Lance)
As well as having been a pro sax player for 20 years, Pete Cook is also Head of Jazz at London College of Music. With such a pedigree it's little wonder that Cook is able to mix in a wealth of anecdotes alongside a host of practical advice on the day to day existence of the gigging professional musician.

It's all here - such as what to do if you've lost your passport in a foreign land or how to charm the caterers into feeding the band at a society wedding..

A friend was quoting a few sentences to me from Road Rats Tips before I'd actually started reading it.
"Well," I said somewhat pompously, "That's just common sense."
"Oh yes? How many musicians do you know who can apply common sense?" she cuttingly replied.
I had to admit that Django Reinhardt could have counted them on the fingers of one hand - either hand.
Which is the whole point of the book. Muso's, like any other creative artist, prefer not to bother themselves with such mundane matters as getting from A-B in X number of days with Y pairs of socks.
With Road Rat's Tips it's done for them and I must confess I found few, if any, situations the author hasn't covered.
To sum up, a useful, practical, often funny, easy to read guide to survival on the road; and if it seems more geared towards the globe-trotting pro than the journeyman club-date/function gigster the lessons learned and the knowledge gleaned can still be applied to the individual's own situation.
As a matter of local (north east) interest, one of Pete Cook's former pupils - pianist, composer and now Doctor (mus), Paul Edis - is quoted. But perhaps the best quote comes from their mutual friend and well known Greek sax player Vasilis Xenopoulos who of course is no stranger to the north-east.
Asked what items he considered essential to take on the road he replied "Your instrument, paracetamol, immodium and condoms!"
Sums it up really!
To find out more about this book check out www.roadratstips.com where you can read a sample chapter for free and purchase - post free - from Amazon (£9.99).
To find out more about the author click here.
From 'Tales From the Woods'
By John Howard


THE first time I broke bread with sax player Pete Cook was in France at the Blue Monday festival halfway between Lyons and Geneva Switzerland when he was part of Si Cranstoun's band. Midway through the meal, Pete apologised profusely for failing to remove his hat, and did so. I felt it was an ultra-polite move, but the reason for the gesture has now been revealed in Pete's first book, Road Rat's Tips, The Musician's Guide to Keeping Comfortable, Safe, Sane and Employed on the Road. (Gigster Publishing). It is considered bad manners in France not to remove your chapeau when dining, and this titfer tip is among dozens, nay hundreds, of handy hints the self-described journeyman musician offers in this useful tome. Packed with common sense suggestions and held together with amusing stories of life on the road it is essential reading for any musician, or indeed, DJ, likely to tour.

In addition to his baritone work on the road and in the studio with Si Cranstoun, Laura B. and the Moonlighters, Mike Sanchez, Jackson Sloan, his backing work with everyone from Lloyd Price to Clarence "Frogman" Henry, he has been an integral part in the rise and rise of Irish chanteuse Imelda May. And it is Imelda who writes the amusing introduction to this lively paperback. By day, Pete has been Head of Jazz at the London College of Music for the best part of ten years, and prior to that lectured in music at Brunel University for eight years. It's amazing that he finds time to schlep all over the world with his hat (sometimes) on his head and his baritone sax stashed safely in the overhead locker in the cabin of a budget airline.

Just how a travelling musician is able to retain possession of his instrument on a plane rather than have it slung in the hold is one of many subjects covered in detail in the book along with stage-wear, health, cultural differences, road etiquette, stage safety, hotel arrangements, punctuality – in fact, every aspect of a working, wandering musician's life. Like, how to deal with "grippers", the music obsessives who grab musicians by the upper arm when they come off the stage and want to talk to them at length. His advice? Treat them politely, which is typical of the sensible suggestions contained throughout.

The inspiration for the book was a lecture he gave his students about what was likely to happen to them when they left the dry world of music theory and started displaying their skills to the paying public. He realised there was a gap in the market for a "How To" book and decided to share his 20 years experience with newbies on the road.

The layout of the book and the advice he gives is a joy. He relates the tip, puts it in context, illustrates further with a relevant story, then summarises the main points at the end of each chapter. Easy to use, simple to follow, making this the ideal travelling companion for any muso out gigging.

The mantra, oft repeated, is giving the best possible performance takes precedence over everything. Yes, in italics.
His confidential writing style, and rib-tickling anecdotes also make this a worthwhile read for anyone NOT in the music industry, and I read it in one go, cover to cover. It's that difficult to put down and highly recommended.

JOHN HOWARD
Find out more at www.roadratstips.com


From 'Allegedly Hot News International'
Review by Alan Barnes


This book by Pete Cook, Head of Jazz at London College of Music and professional saxophonist for twenty years, is an absolute gem.

This volume is aimed at everyone from music students and semi-pro musicians wondering about the practical matters of becoming a professional, to full time pros who may feel things are in the doldrums and need help to move on and improve things. Actually, even if you don't fall into any of those categories, buy it and read it anyway just for entertainment value and for an insight into the gigging world.

The book is divided into five very clear sections, which contain twelve separate choruses, each covering a different subject, a shout chorus which contains the Dozen "but"Caveats a and handy coda which emphasizes all the bullet points made in previous chapters.

I enjoyed this book in a straight read through but it will remain on my shelves as a very useful reference volume.

All the advice is sensible and very practical. Pete brilliantly avoids all the dreadful self-help and "I am an artist" type gush that some advice for musician publications are full off. Each section is leavened by highlighted humorous anecdotes often about musicians who have got it woefully wrong. Names have generally been left out to protect the guilty, for which, in one instance I am very grateful.

Subjects covered include driving, public transport, looking after your equipment, hotels, food, staying comfortable, flights, luggage, keeping healthy and attitude.

Some advice might seem obvious such as "Leave plenty of time", but how often do musicians not do that! The advice on driving late at night contains a couple of strategies for staying awake and choosing your route that I had never thought about but have now adopted.

Nuggets of good sense to be found include: Never upset someone who is giving you food, don't upset the locals, do your practice at home and grin and bear it when you are "gripped"

I guess the overall message of the book can be summed up in the simple phrase "Don't be an arsehole!" Indeed the author suggests looking at situations from other people's perspectives- "This is particularly useful as it might just turn out to be you that is being the arsehole".

This is a superbly entertaining yet very practical guide and is highly recommended.