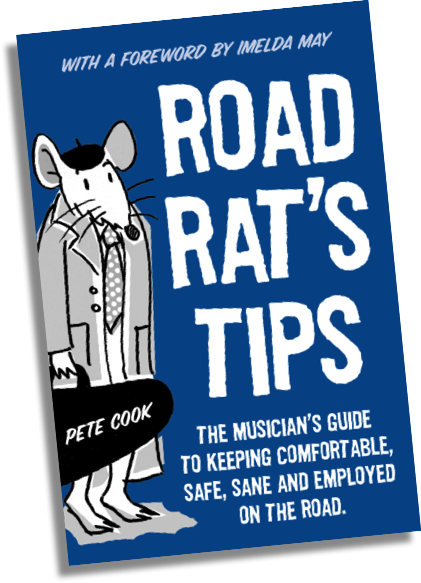 It's Finally Arrived...


Road Rat's Tips
Want exclusive access to 20 years' worth of professional knowledge?
In the real world, being able to play well doesn't necessarily guarantee you'll get work as a musician – in fact, playing well is only half the story.
Road Rat's Tips
deals with the other half.

Trial and error is not the best way to learn your road skills and etiquette – that's why
Road Rat's Tips
exists. Its aim is to keep you comfortable, safe, sane, reliable and therefore employed as you go about your professional business.

Giving your best possible performance must take precedence over everything.
Road Rat's Tips
gives you the tools to make sure it happens every time.
An instantly engaging read, Road Rat's Tips has a clear layout brim-full of coherent advice and is wonderfully funny, laced with much anecdotal evidence.
Amazon reviewer fjfb
I particularly liked the etiquette tips – and wish that more of the musicians I work with would learn them!
Amazon reviewer kfletch
Working in the studio for a couple of days and the book is in constant demand. When the players are hanging around they go straight to the book. Perfect for all studios etc!
Sam Brown
Ask any working musician worth their salt and they'll agree that Pete Cook is the consummate professional, what he doesn't know about the business ain't worth knowing!
Amazon reviewer M CDrums
...I discovered what can best be described as a life-manual for musicians and civilians alike…
Amazon reviewer Em
When you buy Road Rat's Tips, you get free, sneak preview access to a chapter from my next book absolutely free of charge.